Whenever we hear the name Syria, all we can imagine is pictures of death and destruction. However, Syrian musicians, who fled their war-torn country and took refuge across Europe, have united under the Syrian Expat Philharmonic Orchestra to counteract these images and display a part of the Syrian and Arabic culture through music. A part that replaces death with beauty and destruction with hope.
Raed Jazbeh, who came to Germany in 2013, founded the orchestra. For him, and the 65 Syrian musicians composing the orchestra, this is not only about performing, but about showing the European people the true Syrian culture and music. All the musicians are classically trained, and the majority of them studied music at the Higher Institute of Music in Damascus. – They are not amateurs, but professional musicians who hope to bring part of their culture and heritage over to Germany.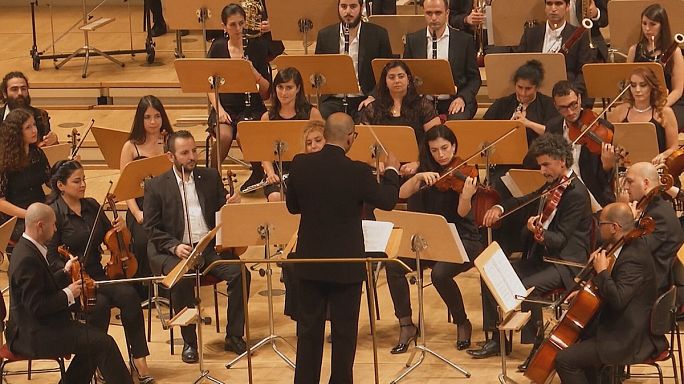 And it's not only the musicians that get to unleash their creativity at the European crowds, but the composers join them too. Suad Bushnaq, one of a very small number of professional Arab women composers in the world, had her musical piece "Ghadan" (Tomorrow), which she orchestrated and composed, performed at the Berlin Concert House  – Konzerthaus Berlin – by the Syrian Expat Philharmonic Orchestra in a sold out show in September. (We've previously covered Suad's work here)
The musicians unite from all over Europe and Germany when they are to perform. The orchestra itself, however, has established Bremen as its base. Suad says:
"I've known many of the orchestra members for 16 years and haven't seen many of them in thirteen years."
The group has only performed in Germany, but they are planning to perform in Sweden soon, and all over Europe in the future.
For the people involved in this orchestra, it's not only about the music, but it's something much more bigger. It's a way to display the Syrian culture in all it's beauty and vibrance. Away from the horrors of the war that engulfs Syria. As Raed Jazbeh puts it:
"We cannot stop this war, so by our music we can do something. Maybe it's very small, but it's very important." and Suad Bushnaq concludes it: "In a world filled with ugliness, wars, and bloodshed, the Syrian Expat Philharmonic Orchestra aims to spread the image of Syria that we, those who lived there, know and love."
Don't forget to leave a smile 🙂